Welcome to the Pioneer Square East West Pedestrian Improvements project online open house.
This online open house originally ran from July 30 – August 23, 2019. We have closed the survey portion of the online open house and are currently continuing to develop our design for pedestrian improvements on Main, Washington, King and Yesler streets by considering the feedback we received. We will keep the remainder of the content up as a resource until we've reached our next design milestone.
At this online open house, you can:
Learn about the proposed concept design for east-west streets
Hear how public feedback informs the design
To keep up to date with the project and learn about our next steps for outreach, sign up for our email list.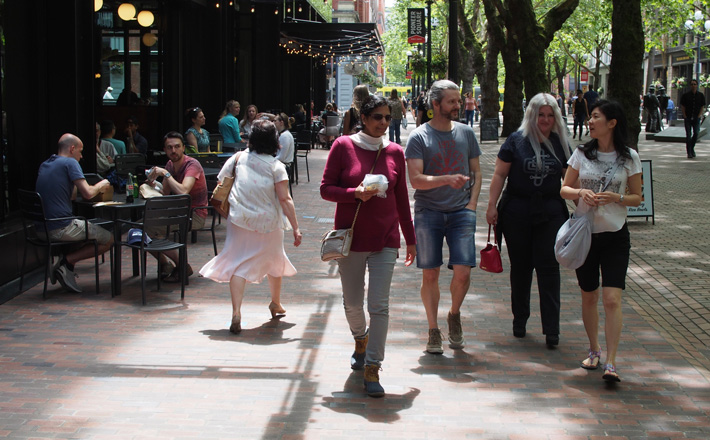 The City of Seattle's Office of the Waterfront & Civic Projects, working with community partner Alliance for Pioneer Square, has begun an effort to improve east-west streets in the heart of Pioneer Square. This project will design and construct improvements on portions of Main, Washington, King and Yesler streets between 2nd Avenue and Alaskan Way.
This effort will:
Connect the heart of historic

Pioneer Square

to the new 20-acre waterfront park
Provide safe, convenient and graceful pedestrian connections
Improve accessibility for people of all ages and abilities
Strengthen the renewal of public spaces such as

Occidental Park

Support the economic vitality and culture of the district as a whole
We are now completing concept design. To ensure the project is informed by the community as we move forward, we'll continue to engage the public through:
Public open houses, tours and pop-up events in Pioneer Square
Business and property owner meetings
Briefings to community organizations and boards, including Pioneer Square Preservation Board
Periodic meetings of the project Sounding Board, representing a broad constituency of Pioneer Square stakeholders
Project budget and funding
There is a total budget of $20 million for all project costs including design, permitting, construction and management. The project is primarily funded by the Waterfront Local Improvement District (LID) and is supported by other City funds.
Pioneer Square

budget considerations
The budget will fund significant pedestrian improvements in the project area
We are looking at where the most public benefit can be achieved
The budget is not intended to address every location within the project's geographic area
A key part of our concept design proposal is prioritizing blocks where we have the greatest opportunity
Values
We're committed to designing improvements for Pioneer Square that are: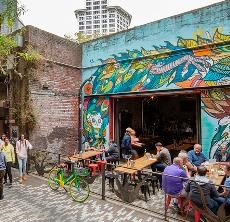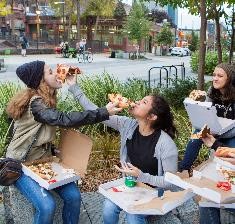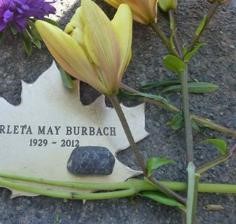 Connecting to the waterfront
Connecting to the waterfront
This project will link Pioneer Square to other public features that will be built as part of the Waterfront Seattle Program, including the new Alaskan Way, the park promenade along the water, the reinstalled Washington Street Boat Landing Pergola, a habitat beach south of Colman Dock, and a future open space opportunity at Pier 48.
Click through the slider below to see more about these projects.
A historic bond and lost connection
The land Pioneer Square now rests on has long hosted people – from Coast Salish communities to early settlers – whose daily rhythms were tied to a deep connection to the Sound. The introduction of the Alaskan Way Viaduct and the shipping industry's move to containerized cargo diminished Pioneer Square's historic connection to Puget Sound. With the demolition of the Alaskan Way Viaduct, the neighborhood and city want to ensure that the bond between water and land is reestablished.
Click through the slider below for historic images of connections between the district and the waterfront.
Weaving land and water
These east-west corridors knit past and present, open space and commerce, and intimate and expansive spaces together. These corridors, once woven together, can mutually strengthen one another, inviting waterfront tourists into the district, underground tour attendees into Occidental Park, and diners out to the habitat beach to watch the sunset.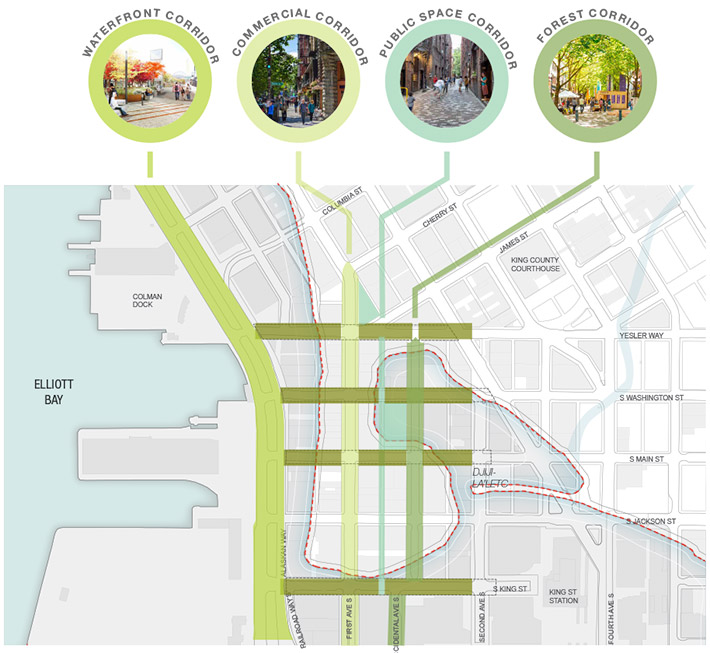 This spring, we received input on the project from hundreds of people through our Sounding Board, community briefings and an open house and online open house in April. Key feedback themes included:
Maximize pedestrian space on east-west streets
Convert Main and Washington to one-way narrow streets
Build raised intersections and curbless streets to improve access for all
Address safety for all, including pedestrian safety
Prioritize vehicle loading zones over short-term parking spots
Respect the lived experiences and cultures of indigenous and Coast Salish people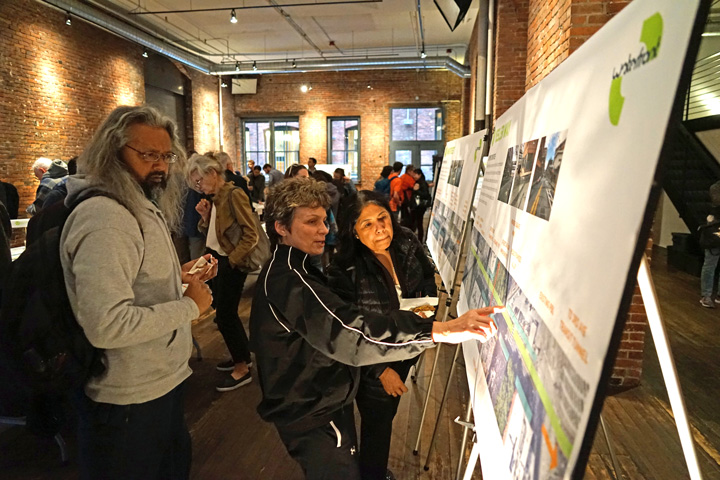 To help prioritize which projects would be implemented using the Pioneer Square East West Pedestrian Improvements project funding, we consulted with a Sounding Board of neighborhood residents, businesses, and property owners. Together we prioritized investments that would:
Create transformational change on Main and Washington streets, the two streets within the project area with the most potential to create safe, generous pedestrian connections
Connect the heart of Pioneer Square at Occidental Park to key places on the new waterfront
Prioritize connections on Yesler Way and King St to the first blocks from the waterfront
The Office of the Waterfront and Civic Projects will continue to explore ways to leverage funding through both public and private sector partnerships.
Main and Washington streets
Main and Washington streets serve an important purpose in weaving together Pioneer Square. As non-arterial streets, there are great opportunities to improve the pedestrian experience on these streets, connecting existing open spaces like Occidental Park to the waterfront.
Our concept design for Main and Washington streets:
Connects key destinations on the waterfront and the heart of the district at Occidental Park
Creates more space for pedestrians, improves access for people with disabilities, calms traffic, adds planting and allows room for sidewalk cafes
Accommodates local access while not accommodating through trips that have no destination in the district
Protects vulnerable areaways from heavy loads
Functionally and visually connects buildings adjacent to Occidental Park to the park
Revises channelization between Occidental and 2nd and on 2nd between Main and Washington to allow for local circulation and provide opportunities for parking and loading
Main and Washington plan views
Space for pedestrian improvements is created by redesigning Main and Washington streets as quiet one-way streets with one lane of traffic. Current traffic volumes on these streets are very low and easily accommodated in a single lane. Main St would operate eastbound to 2nd Avenue S, and Washington St would operate westbound. Local access and parking/loading would be maintained and easily accessed through a series of right turns or "access loops".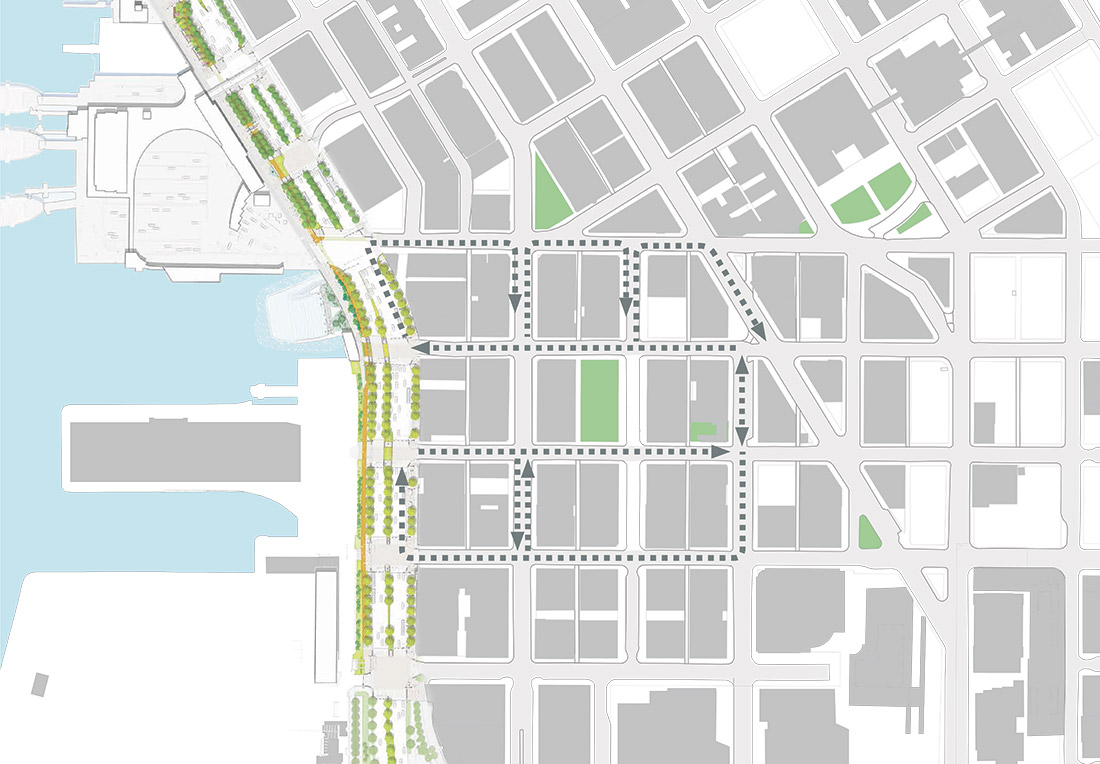 What will it look like?
Washington St at Occidental Ave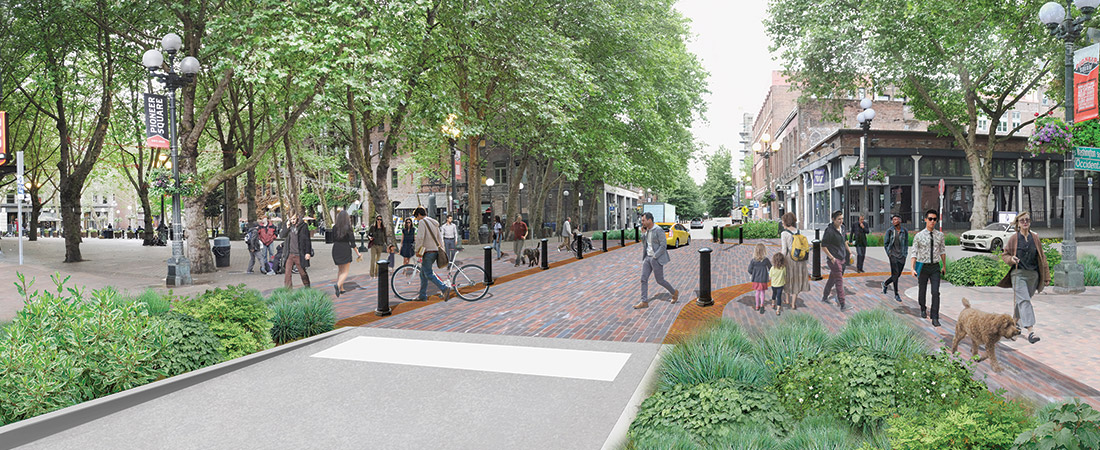 Washington St between 1st Ave and Occidental Park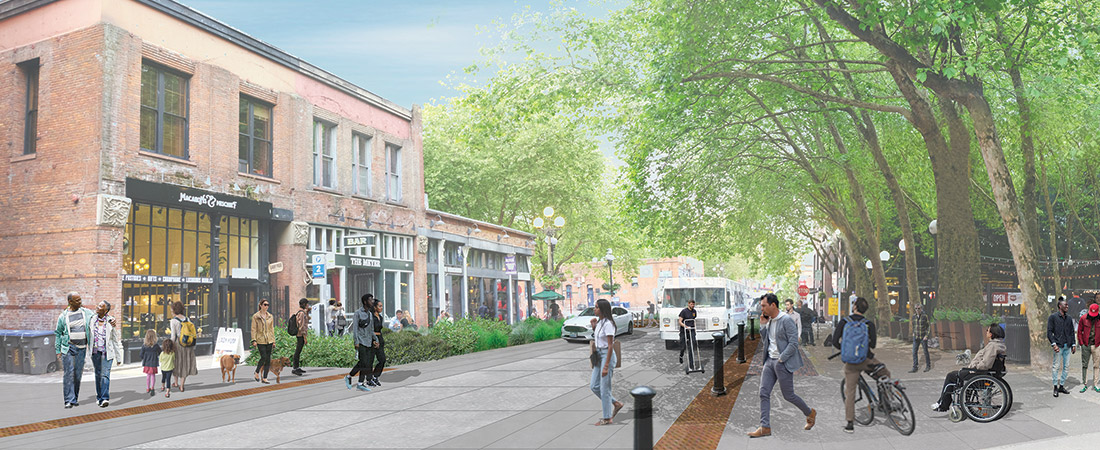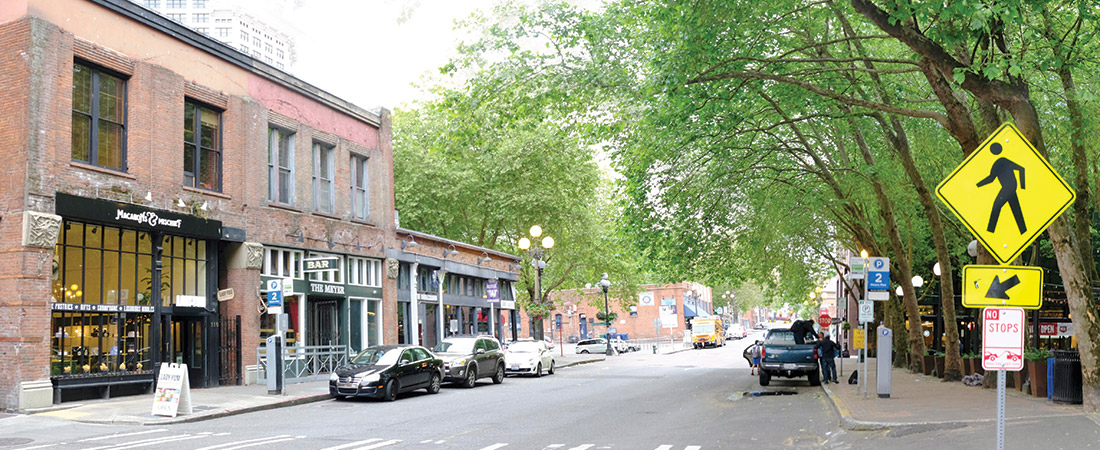 Washington St between 1st Ave and Alaskan Way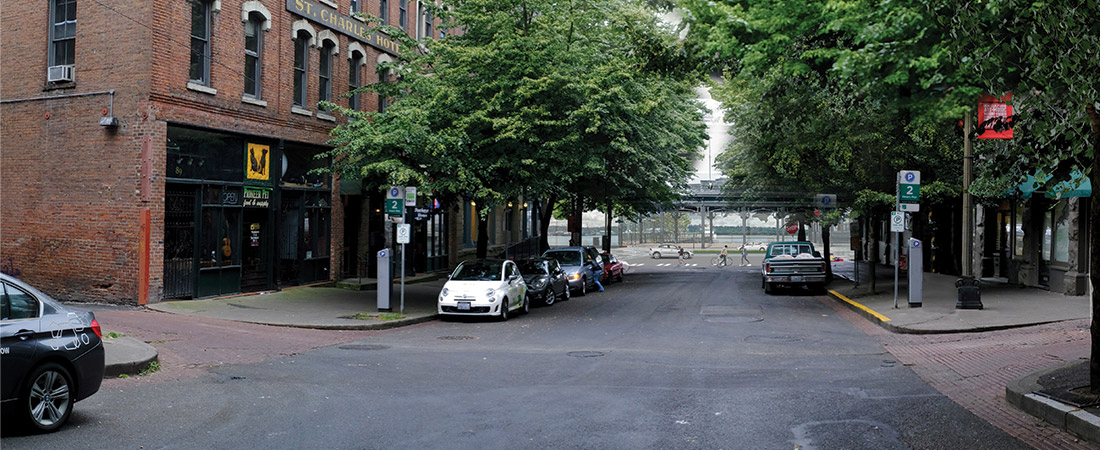 Main St between 1st Ave and Alaskan Way
Main St between Occidental and 1st avenues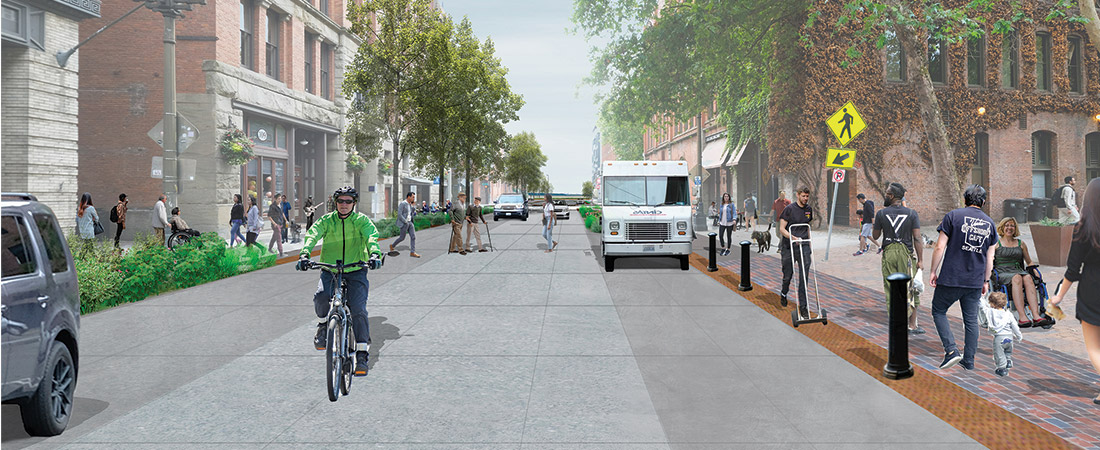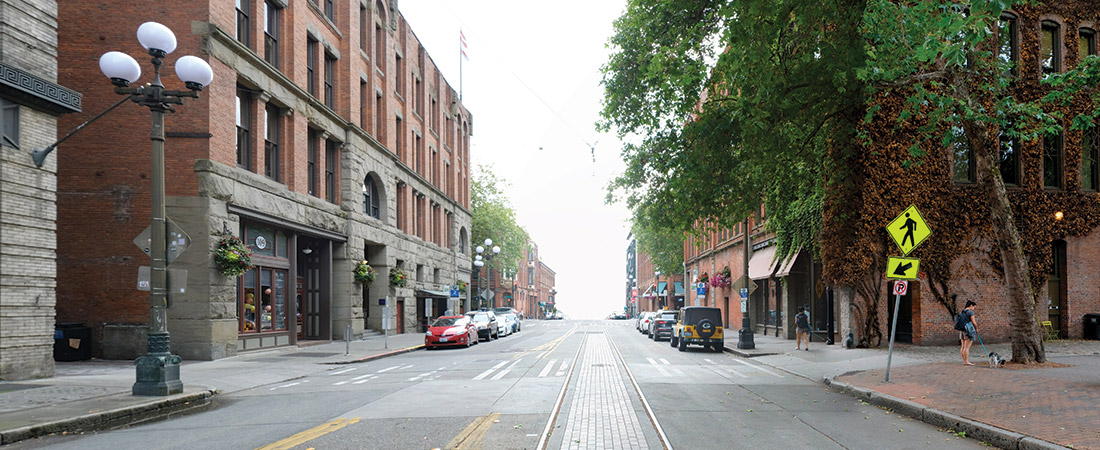 Main St at Occidental Park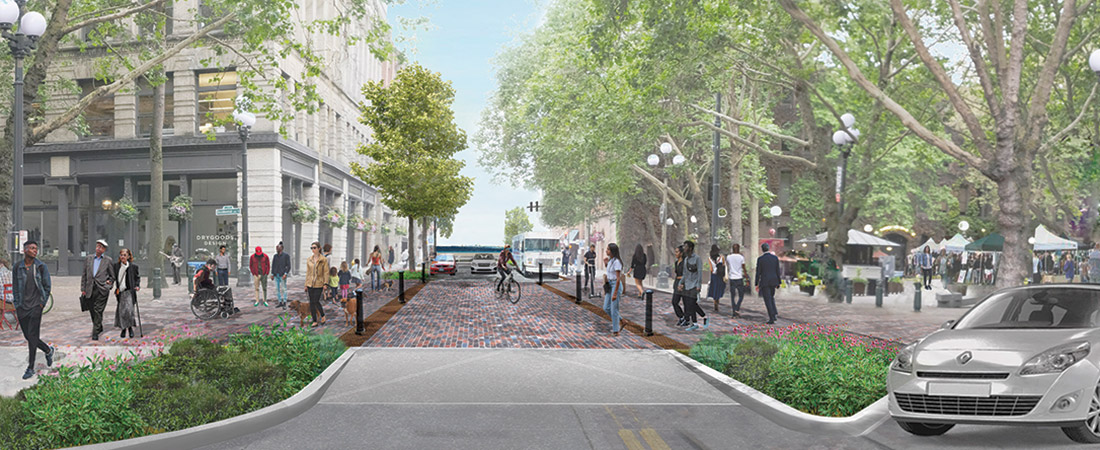 Yesler Way prioritizes pedestrian improvements on the north side of the street to connect to:
The ferry terminal (pedestrian crosswalk only on north side of intersection with Alaskan Way)
Pioneer Square Park
Link Light Rail Tunnel
Yesler Way plan view:
Due to turning ferry traffic, only the north leg of the Yesler Way and Alaskan Way intersection will have a pedestrian and bicycle crossing. The north side of Yesler Way will also be a well-used pedestrian corridor connecting both open spaces (Pioneer Park, Prefontaine Place and City Hall Park) and active transportation (downtown Seattle transit tunnel, future Center City Connector, and a planned, but unfunded, protected bike lane connection between Occidental and Yesler).
What will it look like?
Yesler Way between Western Ave and Alaskan Way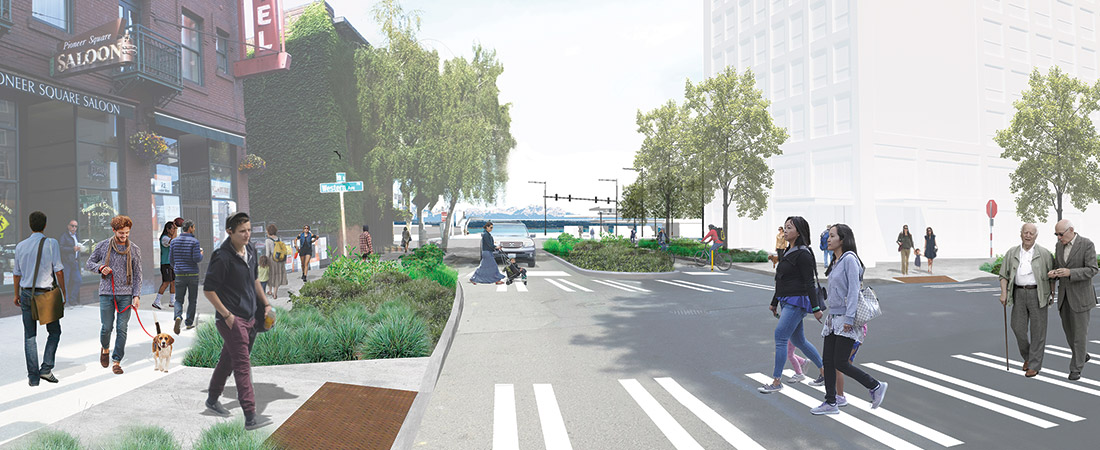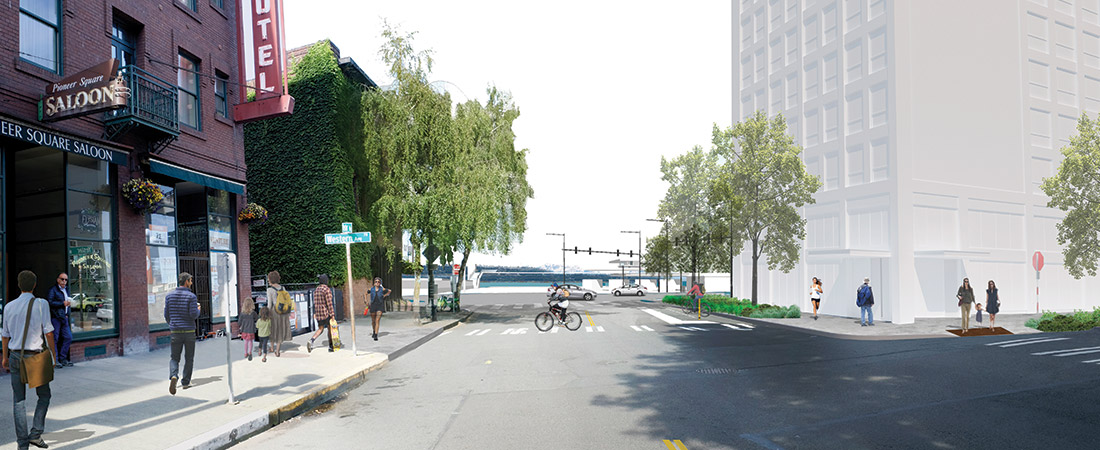 Yesler Way between 1st and Western avenues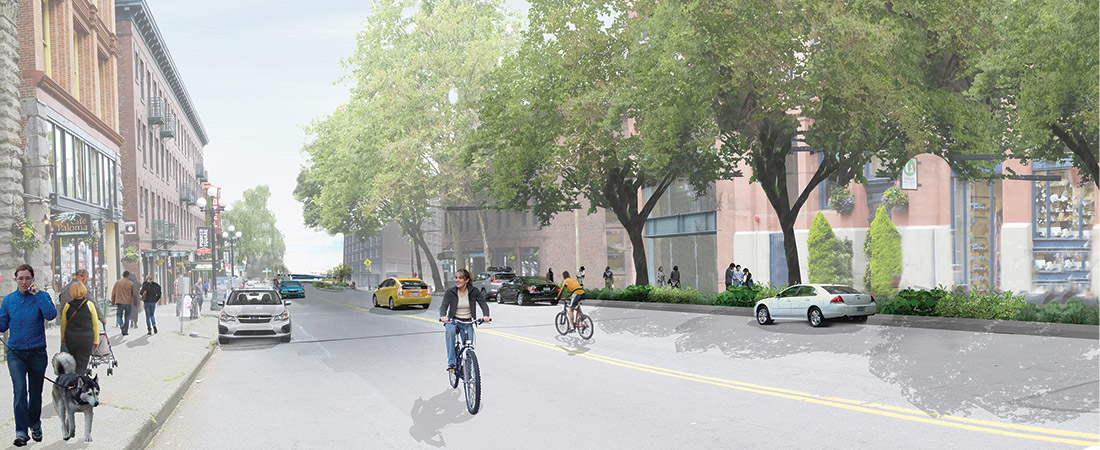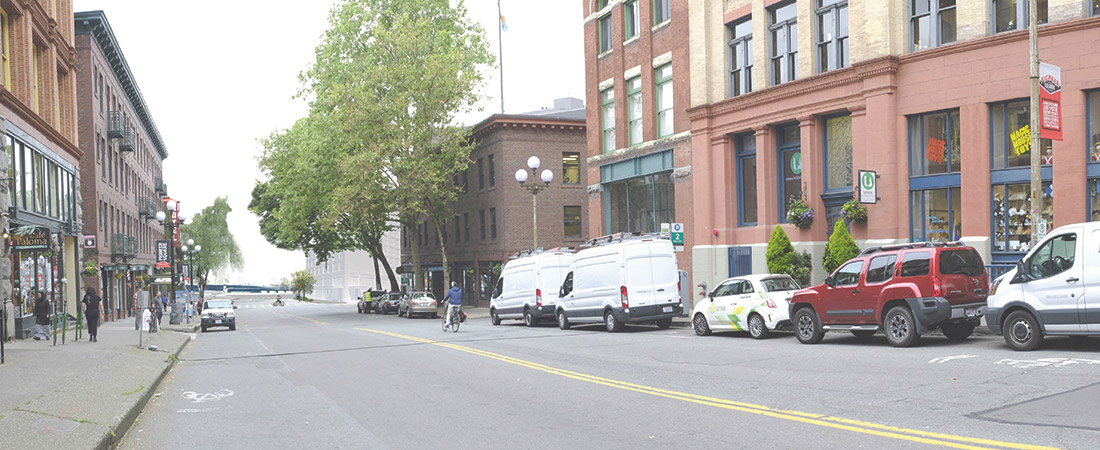 After receiving feedback on the concept design this summer, we'll continue developing the design based on community priorities and our project budget.
In future phases of design, we will:
Reveal the multiple, sometimes hidden, histories of the neighborhood through interpretive elements
Propose species for planting
Establish paving and street furnishings
Finalize locations for passenger and truck loading zones
We look forward to engaging you again around our 60% design milestone in spring 2020!